From Squamish to Guanella Pass in my Vapor V's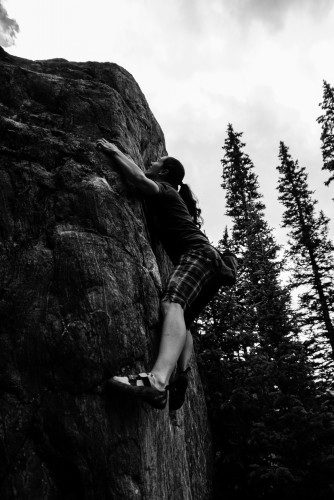 I have been living in Seattle for a year now, 1 YEAR! I have somehow managed to survive my first winter here in Seattle, but it wouldn't have been possible without being able to climb in Squamish and Leavenworth. Now, if you know these areas, you know that the rock just doesn't give you any feet to work with, and for full value of boulder problems, you will have to beach whale your way over the top outs. This has been a new learning experience for me. These areas have taught me to use my feet, and be creative. During this time, I switched from the Scarpa's Vapor S climbing shoe to the Vapor V's, in hopes that with its design of being a little less aggressive, it will help me feel the rock more. And they did. I learned to feel the rock and trust the rubber that these shoes have to offer. My foot work improved and it was tested when I went back to Colorado for a day in Guanella Pass. When I walked up to the boulders, I looked at the problems and yelled "there are foot holds!!" "Yay!" I only took my Vapor V climbing shoes, because I am just so used to that, and was able to edge on all of the holds, everywhere on the rock. I was able to climb so many boulder problems, and my feet felt so comfortable and solid. I even got to send a ridiculous project from about 3 years ago, Ninja Pony Ride, with hardly any issues. It has a precise heel hook hand match, then a powerful reach across to a sloper. With the ridges on the heel cup, I was able to stick this thing and it felt awesome. Now I'm back in Seattle, ready to go climb in Squamish and Leavenworth again. I love my climbing shoes so much, that in my passion, so many of my clients at Vertical World have purchased them and have had great results. If you are interested in buying a pair of your own, check out The Clymb where they offer Vapor V's and a ton of other awesome climbing gear to help you send.
Evan and Ian getting some motivation during the System's Wall class at Vertical World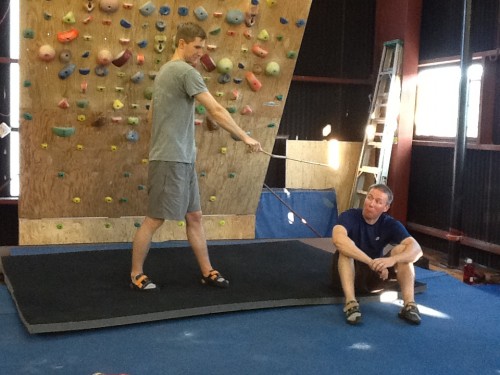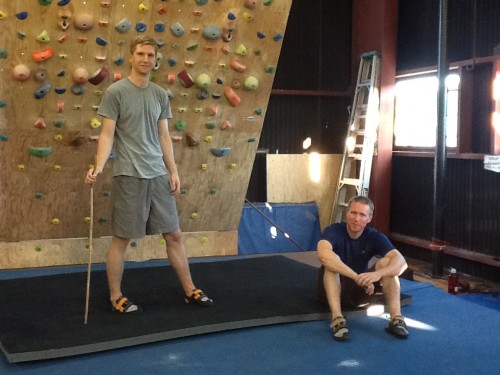 This entry was posted on Tuesday, September 10th, 2013 at 6:31 pm and is filed under Articles. You can follow any responses to this entry through the RSS 2.0 feed. Responses are currently closed, but you can trackback from your own site.
Comments are closed.
Categories

Latest

More Climbing
Analytics Plugin made by VLC Media Player