Reading a Route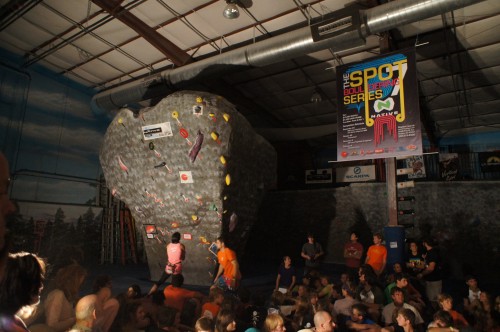 Nina Williams reading the finals route at "The Gun Show" SBS.
Route reading is not exactly easy to pick up when you start climbing. It can however,  be a huge factor in sending your project. A route that should take you a few tries to complete could end up taking a few days to tackle if you miss a simple foothold or have an incorrect sequence. Here is a pre-climb routine that only takes a minute, but could end up saving you lots of skin and energy. When you walk up to the climb you should choose to do these things:
Take an overview of the route by identifying the start holds and the finish holds (or top out).  Locate all the hands and feet on the climb. Find what "Line" the route takes. Does it traverse, go straight up, or zig zag?
Now its time to mimic the movement of the climb from start to finish. Put your hands up in front of you and run through the entire climb, "miming" the hand sequence. Try to use the body tension required during the climb. This will let your body know that you are about to try hard. Be specific with each grip. Is it a pinch, full crimp, gaston, undercling, etc?
Work though the crux section a couple times, until you feel confident you can do each move. If leading a route, look for clipping positions and rest holds.
Now read the route a final time start to finish. Think about the crux moves, clipping positions, rest holds, etc. Visualize succeeding on the route.
With this preparation you are ready to climb the route. Route reading does take practice, so be consistent and patient with the process.
This entry was posted on Sunday, October 30th, 2011 at 5:38 pm and is filed under Articles, Training. You can follow any responses to this entry through the RSS 2.0 feed. You can leave a response, or trackback from your own site.
Leave a Reply
You must be logged in to post a comment.
Categories

Latest

More Climbing
Analytics Plugin made by VLC Media Player